Posted: 25 July, 2019
Scan the list of names on the Scotland Rowing Team for this weekend's Home International Regatta (HIR) at Strathclyde Park and you'll recognise many who are on the way up.
But you'll also see names who have made it to the latter stages of GB selection trials and others who are already competing at a higher level.
Take Fiona Bell who earlier this month was competing for the Great Britain senior team in the World Rowing Cup in Rotterdam.
This will be the medical student's fourth time in the Scottish team. The first in 2012, as a junior, was a major breakthrough to be selected, even if she remembers her performance as 'shocking'.
But it's been solid improvement ever since and this year sees her in the double and the quad, where she will compete alongside former GB international Robyn Hart-Winks.
"The HIR was my first real eye opener," explains Bell, whose GB team mate and friend from the World Cup, Alice Davies, will be part of the Welsh team this weekend.
"So many people have come through from being at HIR to then proceeding in to trials and the GB system.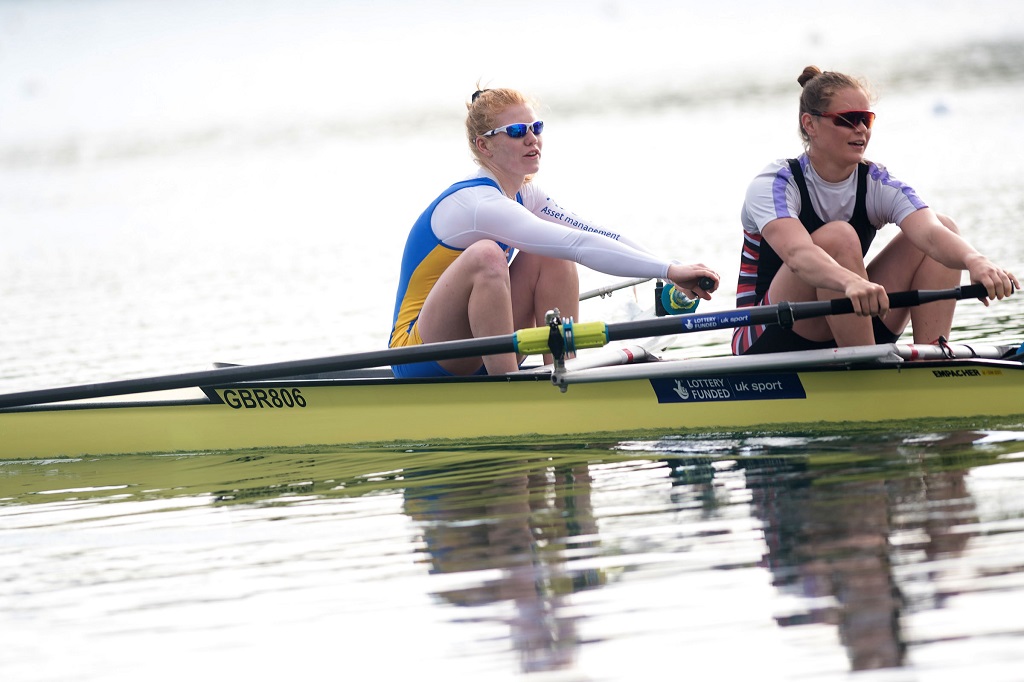 "It's a great event and it definitely helped my development, even since Cardiff (HIR 2016) to now. It's something in the calendar that you can say I'll train for that rather than I'll turn up on the day. And it's a good benchmark each season."
Likewise the HIR is another benchmark for Glasgow's Jack Burns, a three time Scottish team member and winner of the single and double last summer when Cork hosted the event.
Burns is unusual in being a largely self-funded full time athlete for the past three seasons, the goal being to eventually earn a place on the GB senior team.
Progress has been incremental but, since missing this year's GB final trials, he has had a point to prove all season, one that carries through to the finale at Strathclyde Park this weekend.
"For me the biggest thing in the year is selection trials and this year I couldn't do trials because I got ill," says Burns.
"So basically all the races after trials - Duisburg, Marlow, Scot Champs, Henley and now HIR - were and have been a chance to show what I could have done in trials.
The tally so far includes a second place in the Scottish Champs, a first in Marlow but at Henley he drew the winner and German international Oli Zeidler in the first round, although he feels it was satisfying just to qualify for Henley, along with fellow Edinburgh University sculler James Temple. Whilst in Duisburg, he enjoyed competing in a GB vest for the first time.
"The big thing is that I'm enjoying everything, I'm enjoying the training regardless of the outcome, and everything to do with it I'm enjoying. That is the biggest reason why I keep coming back."
With the final race of the season upon us he is hoping to go one better than his two gold and one second place from last year's event and has fingers crossed for the "worst conditions" to help make the team feel at home.
"In the HIR you're always going out there to win and it's good to be in a Scotland vest, there is always a good amount of pride involved in that," continued Burns, who will compete in the single, double and quad.
"There's a bond between all the Scottish clubs when they're down racing in England and it will be the same when we are racing in Scotland at the HIR.
"Coming together for the two weeks before makes you feel like part of a team - not just being a bunch of different random crews showing up a couple of days before.
"Hopefully I'll go one better than I did last year which would be three golds. I'd say this is probably the strongest sculling group and probably the strongest senior men we've had in a while."
You might assume that, having made her GB senior debut a fortnight ago, competing in the HIR is stepping down a level. But Bell disagrees, describing it as competing at a good level without the stress of full international racing.
"It's more fun than some other events because you just go out and blast it over one race," she says.
"And it's quite special because you are representing the group of people who you have been training with and it is great to see new Scottish people coming through.
"You still put on the one piece in the morning – it's exactly the same feeling as putting on my GB rowing piece. Once you've got it on you know that's who you're racing for."
Scottish Rowing looks forward to welcoming England, Ireland and Wales to Strathclyde Country Park. Racing begins at 9.20am.
View the Scotland Rowing Team announcement for the 2019 Home International Regatta:
Full information on this year's HIR is available from the event website
HIR2019
Photos courtesy of Rob Eyton-Jones