Posted: 9 April 2021
The 2019/20 Scottish Rowing Awards took place on our social media channels last week with six awards being presented virtually across the week.
Two new awards were launched this year including Volunteer Team of the Year and Initiative of the Year. The other four awards presented taking during the 2019/20 season were Junior Volunteer of the Year, Senior Volunteer of the Year, Club of the Year and Coach of the Year.
The selection panel from the Scottish Rowing Board and sportscotland wish it to be known that the level of nominations this year was very high and represented the great work that has been put into the last year across Scotland. The selection panel would like to commend all nominations who reached the shortlist stage.
Scottish Rowing Initiative of the Year
Shortlisted:
• Heriot Watt Sculling Championships
• Aberdeen Rowing Clubs - Riverbank Repair
• River Clyde Clear up
Winner - Dan Davidson
Dan single-handedly led the project to reinstate the riverbed profile that existed before the 2015 floods. This was completed between 5th and 7th April 2020 with the excavation of 1700 tons of material from the newly formed shingle bank and its placement along a 160m stretch of the riverbank.
Dan added - "The project was to undo the damage done by Storm Frank. The river bank in front of the rowing clubs in Aberdeen had been badly eroded by the floodwater. The result was that instead of rowing at any stage of the tide as had been possible up until Storm Frank, we were restricted to the top half of the tide only. The restricted rowing times had a big negative impact on the rowing clubs in Aberdeen."
Dan surveyed the site and created detailed drawings and submitted the applications for a dredging license from Marine Scotland and for works approval from Aberdeen Harbor Board. He engaged with the numerous stakeholders (including Scottish Natural Heritage, Aberdeen Council and Fisheries Boards) during an approval process which lasted until February 2020. He led the contractor selection and efforts to seek grant funding.
The excavation of the shingle bank was carried out by excavators at the equinoctial low tides and the material was distributed using dump trucks. Dan was on site for the three days, monitoring the work and taking water samples. He liaised with the contractor to ensure that worker COVID-19 protection measures were in place. Water testing showed that the work was completed with minimal impact to the river environment.
It cannot be emphasized enough how important the work that Dan undertook to remediate the River Dee has been to the rowing community in Aberdeen. The improved access to the river provides opportunities to row when conditions and timing are more favorable, helping to facilitate further participation that will spread the wider benefits of rowing in Aberdeen.
Volunteer Team of the Year
Shortlisted:
• Castle Semple Rowing Club Committee and Covid team
• Dundee Uni Committee
• Stirling Rowing Club Committee and Coaches
Winner – Castle Semple Rowing Club
At an early stage of the COVID-19 'Lockdown' in March 2020, a volunteer team was established to monitor guidance from the Scottish Government and Scottish Rowing on managing Club activity and to distribute club equipment to club members to ensure they were able to keep physically active.
From the outset, the CSRC COVID Team were proactive in reviewing the club's risk assessments and operating procedures to take account of the risks of COVID-19 transmission. The team reorganized procedures for access to the club facilities and planned new hygiene protocols for both members and equipment to promote safe access to the club and equipment for rowers.
In advance of advice from the National Government and Scottish Rowing, the COVID Team had established a club plan for phased return to rowing including different groups from experienced rowers to novice rowers and juniors, single and crew boats in different phases to allow for protocols and procedures to be practiced, reviewed, and modified as necessary to ensure safe protocols to meet the requirements of different groups.
While the numbers of rowers participating have varied as restrictions with change of local level of lockdown have required, the club has provided the opportunity for up to 26 boats (either singles or family crew boats) on Saturday Sessions, 11 juniors on Sunday sessions and, when daylight permitted, 10 boats on Tuesday evening sessions. This has allowed a significant number of members to access club equipment for recreational rowing.
The COVID Team members manage club facility cleaning and hygiene, and prepare member and equipment cleaning stations to support biosecurity for members. They support members in launching and coming ashore, supervise equipment cleaning and provide safety launch cover in accordance with safe operating protocols which they have been responsible for devising and establishing. All of this has represented a significant and ongoing commitment to the Club, often at the expense of their own access to rowing time.
The COVID Team's efforts in managing rower safety has been recognized by the members who confirm that they feel that the club procedures and protocols make it safe to attend organized club activities, including members who have family who are shielding and members who are engaged in front line and health service environments.
Mel Brander, 2019/20 Castle Semple Rowing Club President said - "Not only do clubs need a committee who shows leadership, drive and commitment but they also need a whole host of other volunteers that give up time to support the club by helping run events, attending maintenance days, learn to row courses and various other situations where more help, support and expertise is required. CSRC are incredibly lucky that we have a wide range of ages, skill sets, professions and background throughout the committee, coaches and other members. All decisions, problems, projects etc are always shared with the committee, everyone's opinion is valued and from there, the right person or team are put in place to take the task or topic further."
The social activities have been fun notably the Online Eurovision Song Contest where 20 households took part dressing up as the country of their choice and singing their hearts out – albeit dreadfully!
The people nominated have worked tirelessly for long hours over the past 10 months to keep CSRC as near normal as possible. Since lockdown began there has been some sort of activity every single week and so the volunteers have helped the club to thrive with approximately 70-80 people from the ages of 12-65 benefitting physically and mentally from their unsung efforts.
Coach of the Year
Shortlisted:
• Katie McLaughlin (Glasgow Rowing Club)
• Tom Young (Strathclyde Park Rowing Club)
• Iain Docwra (Glasgow University Boat Club)
Winner: Katie McLaughlin (Glasgow Rowing Club)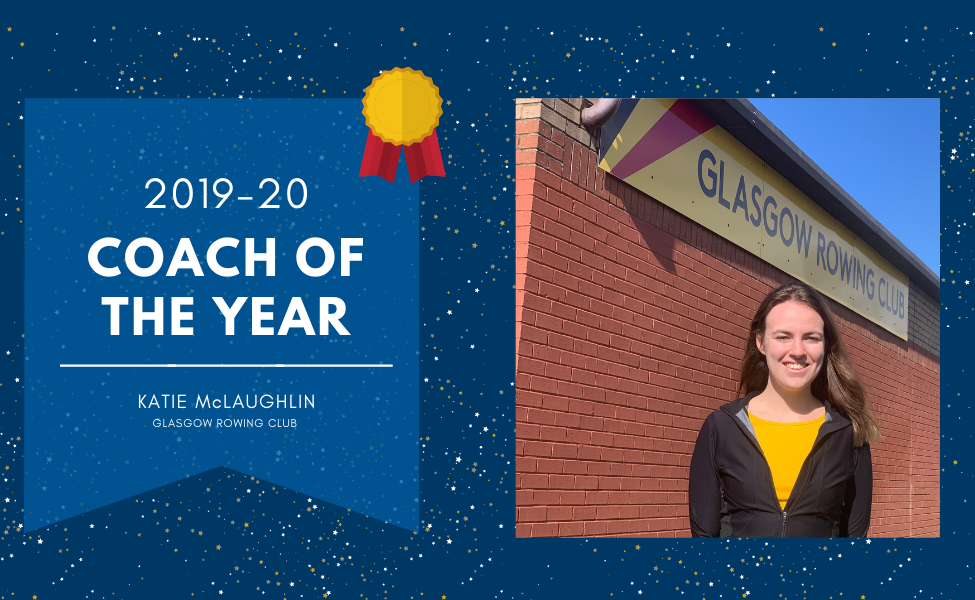 Katie has improved massively as a coach in the last 12 months, largely through gaining access to relevant books and research. This helped her create a periodized training plan to ensure the juniors were able to train using science backed workouts, peaking at goal events, even despite much uncertainty. A chunk of learning was introducing technique focused S&C sessions for injury prevention.

While she has developed an overarching long term periodized plan, Katie has also developed several spreadsheets based on performances of high-level junior athletes, which then allows to benchmark members of the squad in terms of power ratios on various tests to observe strengths and focus on improving their weaknesses. This has allowed for adjusting individuals' training plans, making the junior athletes well rounded and considerably less injury prone.
There has been a significant mental wellbeing aspect to creating the training plan to ensure it is enjoyable and feels worthwhile doing. This has been done through talking to the squad members individually and ensuring that each of the juniors gets what they want out the plan rather than everyone following the same training plan even if it would not meet their personal goals.

During lockdown, when club activities were on hold, Katie ensured that the juniors were able to borrow ergs from the club, and therefore keep rowing. For those who were not able to access an ergo, a separate cross-training training plan was developed so no one fell behind and still felt part of the squad. A key factor was running Facebook Rooms sessions. This allowed everyone to keep in touch and get coaching even when organized activities were not possible. Many members of the squad gave feedback about this keeping them motivated and improving.

Katie has been a fantastic role model as she has started rowing around the same age as many of the juniors are currently, making them feel at home with the various experiences in their journey through rowing. She has also shown a lot of dedication, putting her coaching ahead of many personal goals. Katie's dedication, drive, and adaptability made her an outstanding winner for this award.
Katie believes the most rewarding aspect of coaching is seeing the juniors becoming confident in their own abilities. Katie added, "I'd really like to take the girls to bigger regattas like National Schools Regatta which is something I had always wanted to do as a junior." Katie's advice for anyone interested in getting into coaching is that "the majority of clubs in Scotland would love to have extra people willing to coach so just ask to get involved. Learn from all the coaching you have received yourself & ask for advice, keep learning!"
Junior Volunteer of the Year
Winner: Joseph Peddie (Firhill Youth Project and Community Sports Hub)
Since the inception of the Firhill Youth Project and Community Sports Hub in June 2019, the project has been able to provide multiple opportunities for local young people to reap the benefits of involvement in rowing and other physical activity related opportunities - none of which would have been possible if it were not for our dedicated and passionate team of volunteers. One volunteer in particular, Joseph Peddie (aged 16), has had a particular positive impact this year and deserves further recognition for his contributions to the project and local community.

Since the launch of the project, Joseph has become one of the most dedicated volunteer coaches while retaining a high level of performance and commitment as an athlete with Glasgow Kayak Club. Throughout 2020, as part of his role within the project, Joseph has helped to introduce multiple young people to water sports in addition to engaging in personal development opportunities to further his own knowledge, skills, and coaching experience. Joseph has attended every coaching session run at the FYP & CSH as he can combine the practical sessions with his outdoor education degree at college, meaning he has contributed more than 50 hours of volunteering across the past year.

Having never rowed prior to joining the FYP & CSH as a volunteer is has been excellent to see Joseph's dedication to the sport, notwithstanding the impressive progress he has made in his own rowing ability.

Joseph is a very motivated, responsible, and committed young person with a clear passion for coaching and helping others to progress in sport. Joseph has a natural participant-centred coaching style and works extremely well alongside other volunteers and youth participants within the project. Coming from the local area where the youth project operates, Joseph's journey is an inspiration to everyone that knows him, and he serves as a powerful positive role model for local young people. What is even more impressive this year is that despite the many challenges imposed on Joseph given the COVID-19 pandemic, he has adapted and remained committed to facilitating meaningful rowing opportunities for local youth.

Joseph was instrumental in helping the FYP & CSH safely resume activity following the first lockdown in March 2020, and since a return to activity has arrived at sessions with a bright positive outlook, putting the needs of local young people first and ensuring their safety and ongoing enjoyment.

Moving forward Joseph will continue his involvement in the FYP & CSH, not only as a volunteer coach but also in a new role in the newly formed committee as the Young Leader of the sports hub. A very worthy winner indeed!
Senior Volunteer of the Year
Shortlisted:
• Dan Davidson (Aberdeen Boat Club)
• Jodie Cameron (University of St Andrews Boat Club)
• Matt McElroy (Castle Semple Rowing Club)
Winner: Jodie Cameron
Jodie was exceptional in how she took on the presidency following our previous coaches' departure. Finding an interim coach for first semester, the club continued to thrive with the help of Jodie's relentless optimism and dedication to the club seeing it through the whole season successfully. With the continual cancellations and (re)planning in the 2019-20 season, Jodie led the committee throughout these ups and downs – knowing when to be decisive (e.g. in cancelling our spring training camp, and not racing at BUCS Head) and when to be a positive light in difficult times.
Jodie was also Chair for Saints Regatta, which as with all other events, had to be cancelled as an in-person event but moved online this year. Jodie dedicated much time over her summer to ensure that the virtual regatta would be a success. She led a team of volunteers with great drive and positivity – having to adapt and learn the new online modes of communication. The regatta saw a fantastic world-wide participation with great feedback from many competitors – all thanks to Jodie's incredible dedication.
This season, Jodie has taken on the role of Women's captain. Jodie has been instrumental in creating a positive and supportive environment for the women's squad. Learning how to use breakout rooms and online socials to help squad integration and help everyone get to know each other when they cannot meet or train as a full squad. Jodie is a hugely dedicated athlete – she has her own goals and is always working hard to meet her high expectations. She is a role model in every aspect of her training and dedication to the squad and the club.
Jodie has also taken her passion for the sport into a wider role with Scottish Student Sport. In this position, Jodie has been part of a team who are looking to boost student communications with Scottish Rowing and SSS to make student rowing better for all involved – a group which has been even more important this year! Jodie has dedicated even more of her free time to making sure that rowing is the best sport it can be for student participants across the country.
Jodie has also dedicated 2 weekends to assisting with the delivery of Virtual Indoor Championships. Not only did she help facilitate 3 globally attended events in the British Rowing Virtual Indoor Championships and the Scottish Rowing Indoor Championships, but she was also instrumental in coordinating volunteers for the SRIC.
Jodie said "For me, the most rewarding aspect of volunteering is becoming more involved in a community. Rowing at university has been an important part of my student experience and being able to play a bigger role in our club's development, by leading the team as President and Women's Captain, has given me a clear sense of purpose, and has deepened my connection to our club and the sport even further."
"Throughout the pandemic I've been grateful to be part of such a friendly and welcoming community, in which many volunteers across Scotland have been at the heart of allowing rowing to continue in some shape or form. In November it was exciting to have the opportunity to be involved in the first virtual Scottish Rowing Indoor Championships as a race marshal and to see rowers from all over the world taking part in the event from their kitchens and garages. As we took our Saints Regatta online last September with rowers and non-rowers alike taking part, we saw how much people value the opportunity to be part of a community. Volunteers are key to making these events happen and bringing people together."
"Volunteering is a great way to develop new skills and there are many different volunteering roles in rowing; whether it's a supporting role within your club or volunteering within the wider rowing community at an event. I never imagined that this year I would be helping to run the Scottish, British and World Rowing Indoor Championships from my living room!"
Jodie is a role model within the club but has also taken her enthusiasm and passion into many other voluntary roles. Jodie is a well-respected and positive asset to all the teams she has contributed to and the experience would not be the same without her. She has shown amazing resilience throughout this season. Her positivity and drive have brought on many in the squad and her dedication has facilitated much needed competition to the rowing community in this unusual year. For these reasons she is our, well deserved, 19/20 Scottish Rowing Senior Volunteer of the Year.
Club of the Year
Shortlisted:
• Glasgow Schools Rowing Club
• Stirling Rowing Club
• University of St Andrews Boat Club
Winner: Stirling Rowing Club
Stirling Rowing Club embraced the challenges of 2020, with a focus on providing opportunities for their community to participate in physical activity and laying foundations for a strong future for the club. SRC is run by a committed team of volunteers who have worked exceptionally hard to deliver our 2020 successes.
During the pandemic SRC carried out a number of initiatives to maximise participation in rowing-related activities. Lockdown training, provided members with support and means by which they could continue to enjoy the benefits associated with rowing-related training. They delivered a flexible training plan which offered structured workout sessions, delivered 'Zoom' group training, distributed ergos to members and delivered virtual 'regattas'.
SRC then facilitated a phased return to club rowing. Steps included appointing a COVID-19 Officer, implementation of intensified cleaning, drafting of evolving COVID-19 procedures and risk assessment and restarted coached sessions for juniors and seniors. This was no small undertaking, but it was fantastic to see boats on the water after many months – our club regattas, which included time trials and seeded side-by-side racing, were highlights!
Once restrictions started to be relaxed SRC implemented the necessary measures required to reopen indoor spaces, albeit with reduced capacity. Sessions based at the club were delivered on a 'hybrid' basis - members could 'Zoom in' remotely and train virtually with their peers. They introduced Zoom yoga and circuit sessions into the winter plan. These Zoom sessions were later opened to non-members who had contacted the club looking to try our sport. We also enabled booking of indoor training facilities out with club sessions by individual adult members and household groups.
Lockdown didn't mean the end to competition as the club actively encouraged members to compete at available virtual competitions achieved a fantastic 2nd place in Scottish Rowing's Lockdown League with our members amassing an impressive 7,410,590m! We also enjoyed positive results at Scottish Rowing Indoor Championships (one Gold, two Silvers) and British Rowing Virtual Indoor Championships (one silver, one bronze) with a host of athlete PBs. SRC also engaged with Scottish Rowing training camps and put forward several juniors (male and female) and coach who were selected for the Scottish Argonauts projects, a proud first for the club
In order emerge from the pandemic in a strong position, SRC increased capacity under COVID-19 restrictions by transforming redundant storage space into a dedicated S&C area, complete with squat rack and S&C equipment. Members can train under the tutelage of qualified S&C coaches, and adults may book the space out with club sessions. Additionally, they refurbished their clubroom, formally a dedicated social space, into a flexible training space which increased capacity and provides a refreshed multipurpose space for the long-term. SRC added three second-hand boats, enabled by fundraising, to increase boat capacity and support members' performance aspirations. SRC also initiated works to protect their fleet during flooding. This involves installation of temporary flood barriers, constructed using expertise within our membership, and use of water pumps.
Captain of Stirling Rowing Club, Graeme Duff, said - "We chose to focus on what was possible within restrictions rather than on what we could no longer do. Our coaches have worked hard throughout the pandemic to develop innovative, exciting and challenging sessions to keep members active and engaged, including our Lockdown Bingo Challenge, and 'Training Menu' concept."
"We have continued to work on developing the club and facilities - including our new S&C suite and additions to our boat fleet. Coming 2nd in Scottish Rowing's Lockdown League was a great achievement, and our members have competed in a number of British and World level indoor rowing events. We are looking forward to eventually getting back to competitions and resuming friendly rivalries when the circumstances allow!"
"The Club has been on a continuous development path over the last 5 years, and focusing on the key strands of: boat and equipment improvement; quality coaching; and organised club structure, has enabled us to enjoy increasing success. Above all though, we want our members to enjoy rowing, participating in club activities, and to feel proud to be part of Stirling Rowing Club."
"We are looking forward to getting our members back out on the River Forth and enjoying 'real' rowing again, recruiting new members to our ranks, and making full use of our upgraded club facilities!"
Congratulations again to Stirling Rowing Club our 19/20 Scottish Rowing Club of the Year for their amazing work over the last 12 months.
Congratulations to all our shortlisted nominations and award winners for the 2019/20 Scottish Rowing Awards. This year has been unlike any we have experienced in recent memory, yet it is clear to see that our rowing community in Scotland is adaptable, resilient and passionate about our sport. We are looking forward to the coming weeks and months when we hope more normality will return to our sport and we hope everyone stays safe and has fun on the water.