Posted: 9 November, 2021
Jack Burns led from the front as Scotland's rowers enjoyed a successful return to Boston, Lincolnshire, for the first GB Rowing Team assessment of the Paris Olympiad.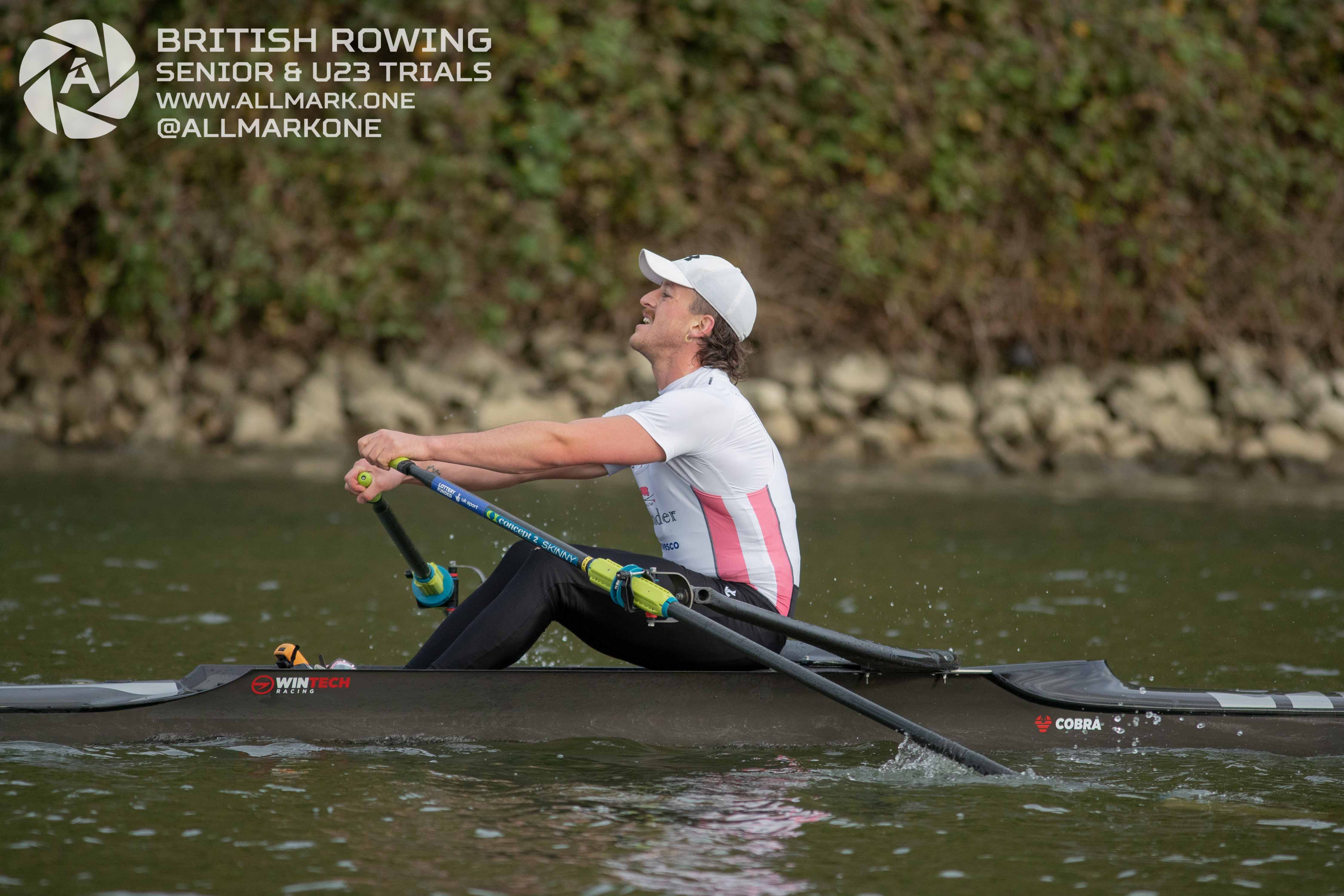 Jack Burns on his way to winning the M1x - (c) All Mark One
The 27-year-old, representing Edinburgh University Boat Club and Leander Club, took the trials title in the men's single scull by a margin of more than five seconds from Seb Devereux (Leander Club) in a field of 37 of the leading scullers in the country.
Burns was one of many Scottish rowers impressing over the two days in Boston including several athletes from Scottish Rowing's national performance programme.
Aberdeenshire's Abigail Topp, 19, along with Leander Club teammate Grace Denning-Smitherman were the fastest under 23 women's pair of the day finishing over 16 seconds clear of the next ranked crew from Durham University.
Abigail Topp finishing fastest U23 Women's Pair - (c) All Mark One
After a season competing in the openweight ranks, Edinburgh University Boat Club's Dale Flockhart will have been pleased with his second placed finish in the men's lightweight division behind Great Britain senior international Jamie Copus (Oxford Brookes University).
Dale Flockhart finishing in 2nd place in LM1x- (c) All Mark One
Elsewhere there was an encouraging GB trials debut for Edinburgh University's Lily Young, formerly of Loch Lomond Rowing Club, who ranked 4th in the under 23 lightweight women's category whilst Cameron Kemp (Strathclyde Park Rowing Club / Edinburgh University Boat Club) and Matthew Fielding (Edinburgh University Boat Club) finished 5th and 6th respectively in the under 23 men's single scull.
Lily Young finished in 4th place in U23 LW1x on her trials debut - (c) All Mark One
Lee Boucher, Scottish Rowing's Head of Performance Pathway, said: "These trials provide an early season opportunity for athletes to get noticed by the GB Rowing Team coaches and it is encouraging to see many strong performances and personal bests from across the Scottish contingent this weekend."
The leading senior and under 23 athletes now turn their attention to invite-only trials at Caversham in December before the next round of open trials on Saturday 12 February 2022. Scotland's junior rowers make their first trip to Boston is less than a fortnight's time for the GB Rowing Team Under 19 Early ID Assessment on Saturday 20 November 2021.