Posted: November 13, 2017
Teenager India Somerside proved she is coming of age after partnering Lauren Gray to first place at this month's GB Rowing Team 1st Assessment at Boston.
The Edinburgh University Boat Club pair have been rowing together since the summer. And whilst Somerside is a lifelong rower and former member of Glasgow Schools Rowing Club, Gray was a complete novice when she arrived at Edinburgh University three years ago.
"Coming into this Lauren had never been to a GB trial before, I was one of the youngest people there and we hadn't ever raced any of the rowers that we were up against," admitted Somerside.
"So it was a real shock to win the trial and we couldn't believe it."
What a difference a year has made for 19-year-old Somerside who is supported by Winning Students, Scotland's national sports scholarship programme for student athletes.
Having competed in the 2016 World Rowing Junior Championships she followed up last autumn by entering the GB senior trials for the first time.
Moving up an age group was a big step, perhaps too big at the time, and her experiences were mixed. But a year of training, maturity and finding a great partner in Gray, have made a world of difference.
"Last year at trials was my first year and each trial I had a different partner. It was a great learning experience to see how things were at senior and under 23 level and get used to it," explains Somerside.
"I know how to approach the trials now. I know what they want and we need to show what we can do on the water for them to consider bringing us to any seat racing or consider us for any crews."
Somerside and Gray had been together in a boat as part of the Edinburgh University women's four the whole summer before they scaled down to the pair just before the Home International Regatta at Strathclyde Park. That they won on their home water in such dominating fashion was a sign of what was to come.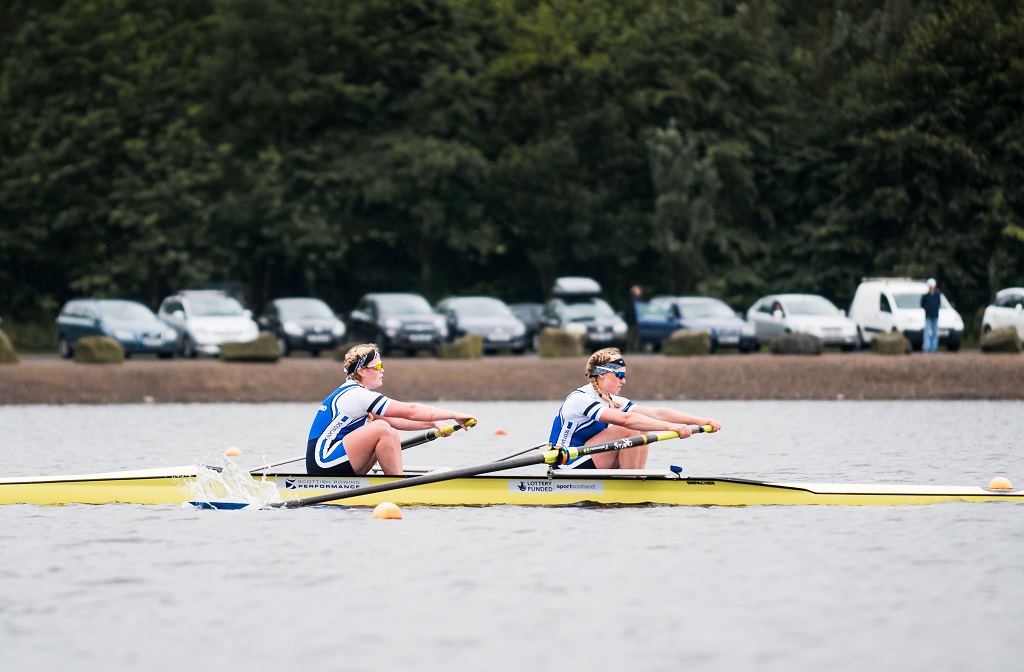 "Lauren and I are familiar with each other and it worked well," said Somerside. "We are similar height wise, our erg scores are quite similar and we have a similar technique. So it really worked easily.
"Now she's helping me improve. She's believed in me. If one of us is making calls and saying we have to go now I know she will absolutely go for it and I'll do the same for her. That belief really helps push us along. She'll push for me and I'll do it for her."
The pair are the latest revelations in a growing line of University of Edinburgh successes. Sixteen Edinburgh students, almost five percent of the total athletes competing at last weekend's trials.
Amongst the notable Edinburgh successes in Boston were Calum Irvine and Oli Wilkes who finished third in the Openweight Men's Coxless Pair, whilst three Edinburgh University students featured in the top eight in the Lightweight Men's Single Scull with Matthew Curtis fourth, James Temple fifth and Dale Flockhart seventh. Lucy Glover placed fourth in the Openweight Women's Single Scull with Laura McDonald sixth in the Lightweight Women's Single Scull.
Other strong performances recorded by Scottish based athletes included Clydesdale Amateur Rowing Club's Jack Burns who finished sixth in the Openweight Men's Single Scull, one place ahead of fellow Scot Harry Leask, representing Leander Club.
For Somerside, the move from school to university programme a year ago has been an eye opener in the most positive sense. It's not simply a case of the coaching or the facilities being better, and there is no doubt that both are of the highest standards, but being around success and a winning environment is infectious.
"Watching how Edinburgh has brought on rowers in the lightweight programme, with two current students and a former athlete going to the senior Worlds this summer is really motivating for me," continued Somerside.
"Lauren started as a novice in the Edinburgh programme, and has got better and better each year. The improvement rate I've witnessed in her over the last year has been huge.
"I've found the difference from the school programme to the university is huge. It took me a while to adapt and figure out how I was going to be able to cope with it and improve.
"But now I know how to work with the programme to get results, and the help of the coaches is fantastic.
"There's a reason Edinburgh is doing so well at the moment and its all down to them."