Posted: July 17, 2014
GB Rowing Team Performance Director Sir David Tanner and his Chief Coaches Jurgen Grobler and Paul Thompson have today underlined their confidence in a national squad which has so far delivered 31 medals at World Cup and European level this season, 12 of them gold.
The trio named a largely-unchanged GB Rowing Team to compete at the World Championships in Amsterdam next month of 66 rowers (including spares) in 19 crews.
Scottish rowers Heather Stanning, Polly Swann, Alan Sinclair, Imogen Walsh, Sam Scrimgeour and Victoria Meyer-Laker are all beneficiaries of the faith shown by the Performance Director and the Coaches, as all three have been selected.
Olympic Champion Stanning, of Lossiemouth, has been back in the harness with Helen Glover in the women's pair since the World Cup in France four weeks ago and they now have two 2014 World Cup wins under their belt.
All Images courtesy of Peter Spurrier at Intersport Images ©
Stanning had taken time away from the sport to return to her duties in the British Army, where she was on active for a year. In this time Glover raced with Polly Swann, of Edinburgh, winning gold medals at last year's World Championships and the European Championships in Belgrade earlier this season.
Stanning said: "I am clearly delighted to be selected. It was always my main aim to get back into the boat with Helen. I wasn't always sure I'd be able to achieve this in the one season especially after my year back with the Army and returning to training later than normally would be expected.
"Obviously I have had my ups and down but we've had some really great racing and now with a solid block of training ahead of us before the Championships we can definitely continue to move forward. Working with Helen again is a dream come true".
Following the return of Stanning, Swann has made the switch the GB women's eight. Swann is named amongst a group of nine women for eight seats for the Championships in Amsterdam.
This crew have enjoyed consistent podium finishes this year as they won a silver medal in Belgrade, and bronze medals at both World Cup regattas which followed. They also won the Remenham Challenge Cup at Henley Regatta.
Swann spoke about the prospect of the Worlds, saying: "Looking ahead to Amsterdam, I think we've put out some good performances but we've not reached our best yet. Honing in on that over the training camps and moving onto the Worlds I think we should be in with a shot at good medal which is a very exciting opportunity for the women's eight".
She also spoke about how the eight has developed through the season: "It's a bit of a mixed boat we've got.
There are some old hands but also some very new, young blood in the boat and as a result I think each regatta we go to we're performing a lot better than the last. I think we have a lot of progress to make, just to knit things together and find that unity but once we do that, in my opinion, I don't think the Romanians will be a problem for us so we need to be punching up there with America and Canada. It's just about putting together those building blocks over the next six weeks or so".
Alan Sinclair, of Inverness, will race alongside Scott Durant and cox Henry Fieldman in a coxed men's pair for the World Championships. They won a silver medal together at the most recent World Cup in Lucerne, having only very recently been placed in this boat.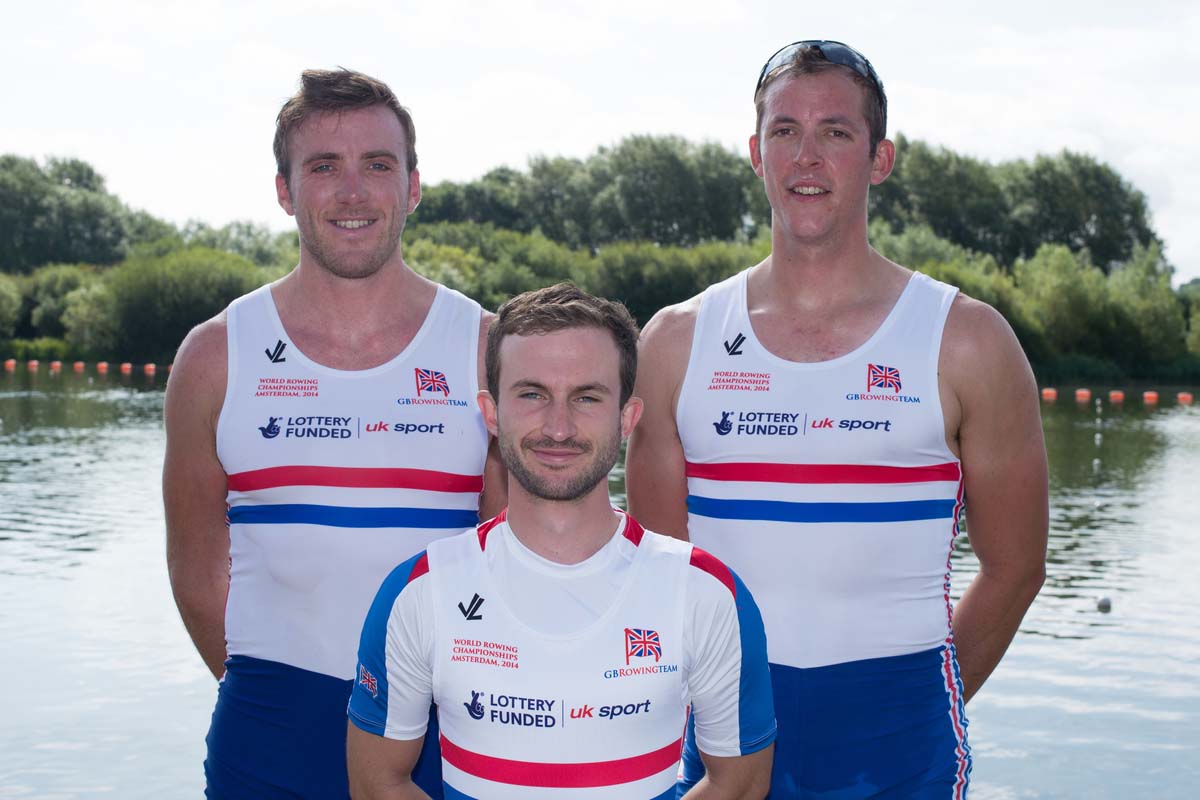 Imogen Walsh, also from Inverness, will once again race alongside 2012 Olympic Champion, Kat Copeland, in the lightweight women's double scull. This is a new partnership for the 2014 season, but they have produced some very promising results, with Copeland showing no signs of ring rustiness after returning to the sport following a year away after her 2012 success.
They won a bronze medal at the European Championships in their first international outing together and have since followed that up with gold medals at both the World Cup regattas.
Walsh commented on the season so far, and the development of her partnership with Copeland: "It's really exciting. Having won the last two World Cups we're feeling quite confident but we know all the other crews are going to step on a lot between now and the Worlds. Although it's a great position to be in and we're feeling good about where we are in the process, we're not resting on our laurels. We think we can push on as well, so there's an exciting few weeks coming up".
"It's been really interesting developing the partnership with Kat. I feel very much like it's creating a new boat rather than me slotting into Kat's boat. We're taking on new roles and I think helps keep things fresh, it's very much starting a new project together and so far it's working".
Sam Scrimgeour, who is from Kirriemuir, lines up alongside Jono Clegg in the lightweight men's pair, having enjoyed good success throughout the year so far. They kicked off the season with a silver medal at the European Championships in Belgrade, and added a bronze medal at the most recent World Cup regatta in Lucerne, Switzerland.
Scrimgeour said: "I'm very excited. We've got some good camps to go away and focus on. It's good to be able to go away and switch off from everything else and think about the training. I think we've got some good things that we need to work on, we know what we need to do and it's all quite exciting going into the World Championships".
The open weight women's quadruple scull has been selected and features Premnay's Vicki Meyer Laker, Beth Rodford and Kristina Stiller. Lucinda Gooderham's return to the boat from a period of injury is still under scrutiny and the final place in this boat and the final selection of the women's eight will be made at a later date. Olivia Carnegie Brown substituted into this boat at Henley and in Lucerne.
Performance Director Sir David Tanner said: "I'm proud of our rowers and our coaches for producing some cracking results at the World Cups. Now what matters is the World Championships and I feel we have a good platform for that".
Article supplied by the GB Media Team.
SCROLL DOWN FOR MORE
=================================================
CREW LISTS
World Rowing Championships 2014
(listed bow to stroke with cox)
Amsterdam, 24-31 August
OPEN
WOMEN
Pair
Helen Glover (Minerva Bath RC/Penzance/17.06.86)/
Heather Stanning (Army RC/Lossiemouth/26.01.85)
Coaches: Robin Williams & Paul Thompson
Eight (cox + eight from nine rowers to be selected from):
Rosamund Bradbury (Leander Club/Banstead/17.12.88)/
Olivia Carnegie-Brown (Oxford Brookes Univ BC/Oxford/28.03.91)/
Jessica Eddie (London RC/Durham/07.10.84)/
Donna Etiebet (Sport Imperial BC/London/29.04.86)/
Katie Greves (Leander Club/Oxford/02.09.82)/
Zoe Lee (Imperial College BC/Richmond, N. Yorks/15.12.85)/
Caragh McMurtry (Reading Univ BC/Southampton/22.08.91)/
Louisa Reeve (Leander Club/London/16.05.84)/
Polly Swann (Leander Club/Edinburgh/15.06.88)/
Zoe de Toledo (cox) (Leander Club/London/17.07.87)
Coach: James Harris
Double scull
Frances Houghton (Leander Club/Oxford/19.09.80)/ (subject to medical clearance)
Victoria Thornley (Leander Club/Wrexham/30.11.87)
Coaches: Paul Thompson/Robin Williams
Quadruple scull
Kristina Stiller (Tees RC/Yarm/23.06.87)/
ANO Rower
Victoria Meyer-Laker (Leander Club/Premnay/18.03.88)/
Beth Rodford (Gloucester RC/Gloucester/28.12.82)
Coach: Nick Strange
Open women spares:
Monica Relph (Leander Club/Cambridge/15.01.88)/
+ 1 from Eight group
OPEN
MEN
Pair
James Foad (Molesey BC/Southampton/20.03.87)/
Matt Langridge (Leander Club/Northwich/20.05.83)
Coach: Rob Dauncey
Coxed Pair
Alan Sinclair (Leander Club/Inverness/16.10.85)/
Scott Durant (Oxford Brookes Univ BC/Lancaster/12.02.88/
Henry Fieldman (cox) (Molesey BC/London/25.11.88
Coach: John West
Four
Alex Gregory (Leander Club/Wormington/11.03.84)/
Mohamed Sbihi (Molesey BC/Surbiton/27.03.88)/
George Nash (Molesey BC/Guildford/10.02.89)/
Andrew Triggs Hodge (Molesey BC/Hebden, N. Yorks/03.03.79)
Coach: Jurgen Grobler
Eight
Nathaniel Reilly-O'Donnell (Univ of London BC/Durham/13.04.88)/
Tom Ransley (Leander Club/Cambridge/06.09.85)/
Paul Bennett (Univ of London BC/Leeds/16.12.88)/
Matthew Gotrel (Leander Club/Chipping Campden/01.03.89)/
Pete Reed (Leander Club/Nailsworth, Glos/27.07.81)/
Constantine Louloudis (OUBC, London, 15/09/91)/
Matthew Tarrant (Oxford Brookes Univ BC/Shepperton/11.07.90)/
Will Satch (Leander Club/Henley-on-Thames/09.06.89)/
Phelan Hill (cox) (Leander Club/Putney & Bedford/21.07.79)
Coaches: Christian Felkel & Jurgen Grobler
Double scull
John Collins (Leander Club/Twickenham/24.01.89)/
Jonathan Walton (Leander Club/Leicester/06.10.90)
Coach: Mark Banks
Quadruple scull
Graeme Thomas (Agecroft RC/Preston/08.11.88)/
Sam Townsend (Reading Univ BC/Reading/26.11.85)/
Charles Cousins (Leander Club/Willingham/13.12.88)/
Peter Lambert (Leander Club/Henley-on-Thames/03.12.86)
Coach: Paul Stannard
Open men's spares
Oliver Cook (Univ of London BC/Windsor/05.06.90)/
Phil Congdon (Molesey BC/Bury St Edmunds/06.06.89)
LIGHTWEIGHT
WOMEN
Double scull
Imogen Walsh (London RC/Inverness/17.01.84)/
Kat Copeland (Tees RC/Ashington/01.12.90)
Coach: Paul Reedy
Quadruple scull
Ruth Walczak ((Molesey BC/Rochdale/15.09.88)/
Eleanor Piggott (Wallingford RC/Olney/16.05.91)/
Brianna Stubbs (Wallingford RC/Headington/13.07.91)/
Charlotte Taylor (Putney Town RC/Bedford/14.08.85)
Coach: Tom Evens
MEN
Pair
Jonathan Clegg (Leander Club/Maidenhead/14.07.89)/
Sam Scrimgeour (Imperial College BC/Kirriemuir/28.01.88)
Coach: Rob Morgan
Four
Mark Aldred (London RC/London/18.04.87)/
Peter Chambers (Oxford Brookes Univ BC/Coleraine/14.03.90)/
Richard Chambers (Leander Club/Coleraine/10.06.85)/
Chris Bartley (Leander Club/Chester/02.02.84)
Coach: Rob Morgan
Single Scull
Adam Freeman-Pask (Reading Univ BC/Windsor/19.06.85)
Coach: Darren Whiter
Double scull
William Fletcher (Leander Club/Chester-le-Street/24.12.89)/
Jamie Kirkwood (Leander Club/Creswell/30.08.89)
Coach: Darren Whiter
PARA SQUAD
Arms & Shoulders Men's Single Scull
Tom Aggar (Royal Docks RC/Maidenhead/24.05.84)
Coach: Nick Baker
Arms & Shoulders Women's Single Scull
Rachel Morris (Guildford RC/Farnham/25.04.70)
Coach: Nick Baker
Legs-Trunk -Arms Mixed Coxed Four
Grace Clough (Nottingham RC/Sheffield/ 21.06.91)/
Pamela Relph (Leander Club/Aylesbury/14.11.89)/
Dan Brown (Upper Thames RC/Reading/29.11.82)
James Fox (Univ of London/Peterborough/02.05.92)/
Oliver James (cox) (Leander Club/Henley-on-Thames/05.10.90)
Coach: Tom Dyson
MANAGEMENT AND TEAM SUPPORT
Performance
Sir David Tanner, Performance Director / Team Manager
Jürgen Grobler, Chief Coach Men
Paul Thompson, Chief Coach Women & Lightweights
Louise Kingsley, ATM – Para
Medical & Science
Ann Redgrave, Doctor
Liz Arnold, Physiotherapist
Roz Brawn, Physiotherapist
Sally Brown, Physiotherapist
Pat Dunleavy, Physiotherapist
Mark Homer, Physiologist
Media & Logistics
Caroline Searle, Press Officer
Maggie Netto, ATM - Admin
Maurice Hayes, ATM - Resources
John Tetley, Boatman
=================================================
THE GB ROWING TEAM is supported by the Lottery through UK Sport and has Science in Sport as a supplier. SAS Analytics is the Official Analytics Partner of British Rowing and the GB Rowing Team